Latam Presidential Ranking: What are the takeaways from 2022?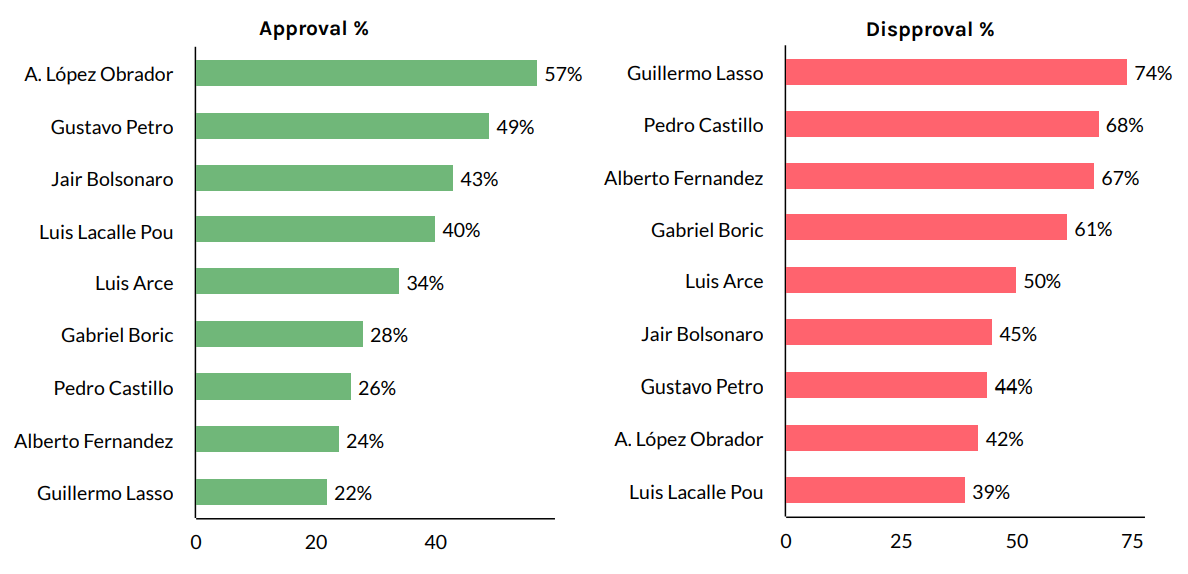 In this latest edition of "Image of Power", which covers the final two months of2022, we review some of the key developments in the region over the past year. From the impeachment of Pedro Castillo and the subsequent violence and turmoil in Peru, to the riots in Brazil threatening to overthrow the freshly elected government barely a week into Lula´s tenure, there is plenty to suggest political leaders in the region will have their work cut out stabilizing, let alone strengthening, their democracies – against a backdrop of polarized voter sentiment, political fragmentation, and citizen demands and expectations that are growing ever more divergent.
What are the takeaways from 2022?
– Throughout the year, most Presidents across LAC labored under the strain of high (in some cases very high) rates of disapproval, while some of the newcomers saw their popularity taper off quickly. Currently, over half the region's heads of state have approval levels languishing at between 20-30% – few of them showing signs of a meaningful recovery. Reflective of this is the fact that some of the presidents – Alberto Fernandez of Argentina and Guillermo Lasso in Ecuador – began 2023 with poorer popularity ratings than those of Peru´s Pedro Castillo when he was ousted last year – the same being true for his replacement, Dina Boluarte.
– There has been talk of a resurgence of leftist governments in the region: a "pink tide" supposedly akin to that of the early 2000s (if only in political terms, not economic). A closer look, however, suggests that this swing from right to left owes less to any notable ideological shift among voters than to citizens' growing impatience with their governments (and traditional parties) over their perceived failure to meet basic demands and raise quality of life. At any rate, the challenges facing today's governments of the left (and some on the right) are different – and tougher – in that, aside for the bleaker economic context, they have to contend with more fragmented legislatures that are harder to get on-side, as well as mounting internecine tensions within the ruling coalitions themselves, forced to accommodate increasingly disparate parties and voices.
– So how are the region's democracies bearing up under these strains? Research shows that while the overall picture for Latin America does not, for the time being at least, point to a marked generalized decline in the state of democracy in the region, there are, quite clearly, certain country-specific instances of major and growing concern, among them Nicaragua and El Salvador. Added to this are the worries relating to voters´ growing distrust of their electoral systems and results. In this report we look at data which suggests that, during the last decade and a half, confidence in the region's ballot apparatus dropped alarmingly, with almost 50% of voters now distrustful of how their country's elections are run.
This waning confidence in electoral systems is the focus of our present report. It is one we explore in our segment "A Ghost that Stopped Growing", where we study these shifting perceptions in more depth and focus on four countries in particular, each considering making changes to its electoral legislation and institutions: Mexico, Colombia, Ecuador and El Salvador.
We then review the situation in Brazil, still reeling from the January 8 riots, before discussing the turbulence in Peru – where you have to go as far back as to the election of Ollanta Humana in 2011 to find a President that lasted a full term.
We finish with a run-through of the electoral calendar – with eyes to be fixed on Argentina, Paraguay and Guatemala ahead of their presidential and legislative elections later this year.