Latam Presidential Ranking: Sept/Oct 2022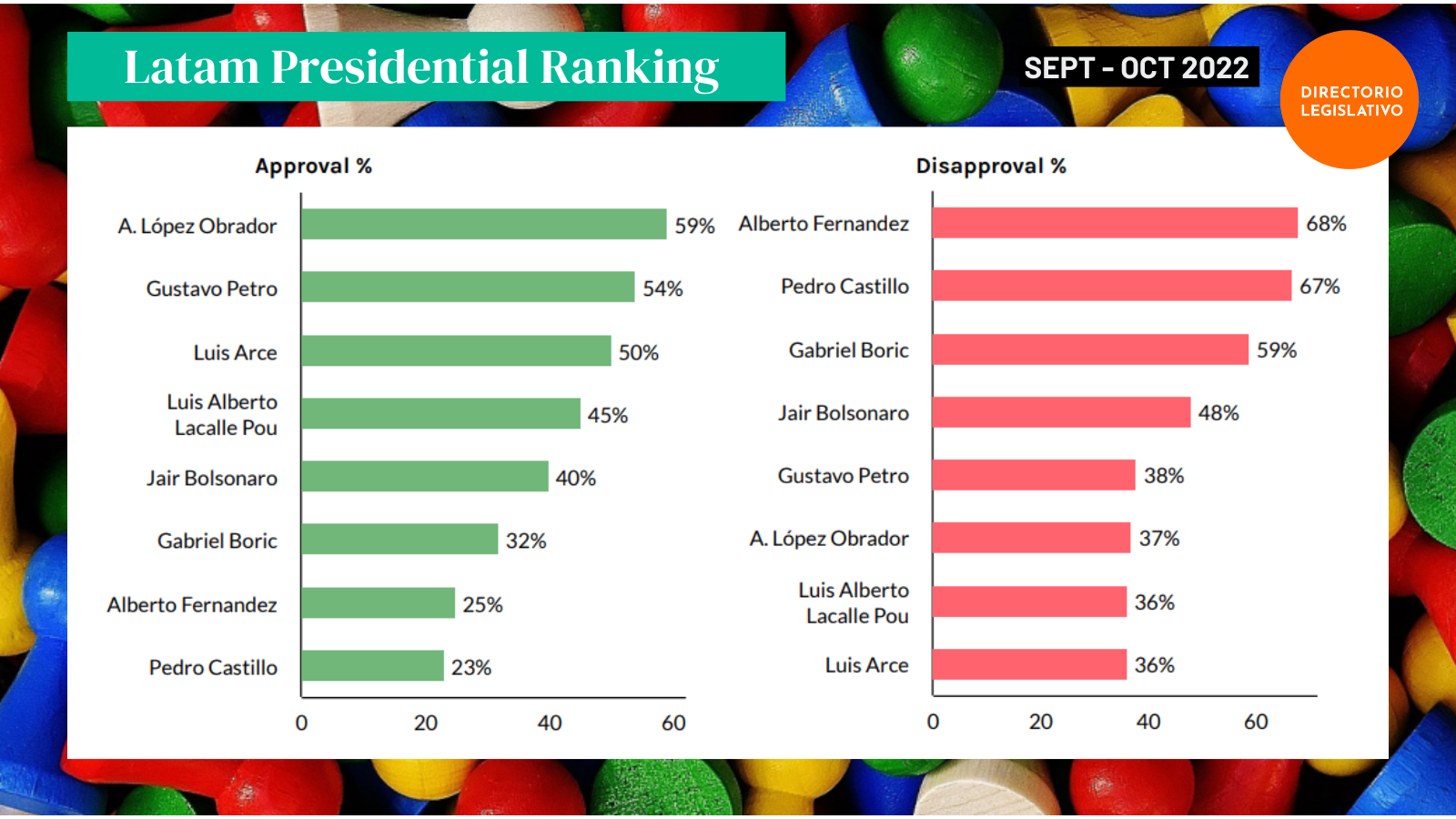 Directorio Legislativo presents its latest ranking of presidents by their approval ratings, based on survey data drawn from 18 countries in the region.
December 2022- Mexico's Andrés Manuel López Obrador (AMLO) sits atop this latest two-month ranking of presidents by approval rating, which covers 18 Latin American countries. Colombia's Gustavo Petro trails in second place. Propping up the rear are Alberto Fernández of Argentina, Guillermo Lasso (Ecuador) and Gabriel Boric (Chile)
In this issue, we analyze five key developments:
– The future for Lula in Brazil. Fresh from defeating Bolsonaro in the country's tightest ever runoff, the stalwart labor boss will have his work cut out once in power – where he is expected to continue keeping his leftist instincts at bay to secure allies and heal divisions. Brazilian affairs analyst, Magna Inácio, examines the challenges he faces, especially in Congress.

– AMLO's push for electoral reform. Mexico's president, now halfway through his term, is doubling down on his efforts to do away with the National Electoral Institute, in a move that has sparked mass protests. We analyze the likelihood of his reforms being backed by the opposition, which they must for them to go ahead.
– Boric's enduring struggles in Chile. Some polls suggest President Boric's approval ratings have plunged to 26%, a staggering 13 points down on his score for the previous two-month period. Insecurity and drug-related crime – tricky issues for progressive Latin American leaders to deal with – are turning citizens against him and his government.
– Crisis upon crisis in Honduras. Barely a year on from winning the elections, Xiomara Castro's government has been severely weakened by the departure of a key party ally from the ruling alliance. We describe the reasons and ramifications of this, in the context of one of the few presidents in the region who is still broadly popular with the public.
– Rumbling turmoil in Peru. The local elections gave scant respite to Pedro Castillo being followed by fresh accusations of corruption and, for the third time, a brewing impeachment threat. Peruvian politics have long been tumultuous but now even the OAS is weighing in, calling for the country to "activate" the Inter-American Democratic Charter.